LASIGE "Accessibility & Aging" Research Line
I am a senior integrated member of LASIGE, a CSE research unit at Faculdade de Ciências da Universidade de Lisboa. I am the Coordinator of the Accessibility and Aging excellence research line, to which I contribute with four other faculty, several PhD and Master students, among other researchers.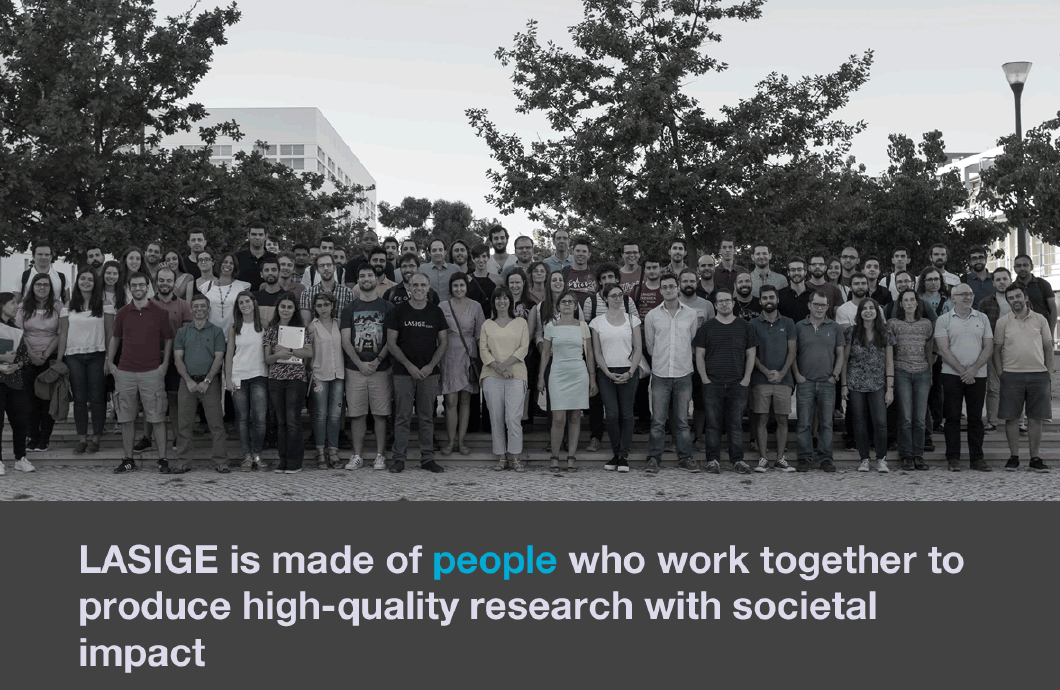 #Tech&People Lab (Lab Memo)
My lab is composed of people that work with me in their day to day on research addressing understanding and devising new interactive technologies for accessible computing, pervasive healthcare, and usable privacy. We call ourselves the #Tech&People Lab.
Faculty
Tiago Guerreiro

Assistant Professor
Staff
André Santos

Research Enginner, Mobile Accessibility

Sérgio Alves

Research Enginner, Pervasive Health
Researchers
Ana Pires

PostDoc Researcher, Human Perception

António Barros

PostDoc Researcher, Inclusive Education
Graduate Students
André Rodrigues

PhD Student (co-advised by Dr. Kyle Montague [Openlab, Newcastle]), Mobile Accessibility

Diogo Marques

PhD Student (co-advised by Prof. Luís Carriço), Usable Privacy

Diogo Branco

PhD Student, Data-Driven Heathcare

Joana Domingues, M.D. (Neurologist)

PhD Student, Remote Patient Assessment (co-advisor to Prof. Joaquim Ferreira [Med School, UL])
Undergraduate Students
Luís Carvalho

Master Student, Pervasive Health

José Franco

Master Student, Usable Privacy

Hugo Simão

Master Student (co-advised by Prof. Rita Almendra [Architecture School, UL]), HRI for Health

Laíza Silva

Master Student (advised by Prof. Seiji Isotani), Inclusive Education (6-month visit from USP, Brazil)

Álvaro Teles

Master Student, Usable Privacy
Memorabilia
Check our
lab memo
for basic rules and principles of our day to day, overarching goals, and strategy.